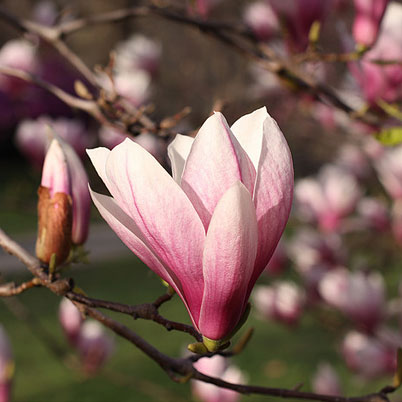 Botanical Name:
Magnolia Soulangiana
Plant Type:
Tree
Origin:
Japan
Approximate Height:
6m (22ft)
Approximate Spread:
3 - 4m (10-13ft)
Foliage:
Dark Green
Flowering Period:
Mid - late Spring
Flower Colour:
Deep rose pink to violet - purple or pure - white
Positioning:
Full Sun
Soil Conditions:
Mois, well - drained, humos - rich, acid to neutral
Hardiness:
Fully Hardy
Availability:
In Stock
Description
Magnolia Soulangiana is variable, deciduous shrub or spreading tree with obovate, dark green leaves to 20cm long.
Large goblet - shaped flowers, 8 - 30cm across, varying from deep rose - pink to violet - purple or pure white. Choose plant location carefully, as many grow large, and most varieties do not like to be moved. Grow magnolias as specimans, or among other trees and shrubs, very tolerant of various soil and climates.