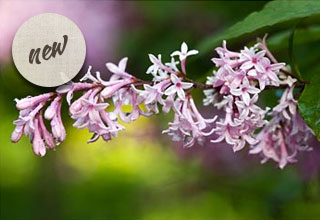 Syringa x Josiflexa 'Bellicent' - Lilac
A delightfully distinctive Lilac, it wows with elegantly arching stems bearing dozens upon dozens of rosy-pink blooms in horizontal rows up to 10 inches long. Very late-blooming and wonderfully fragrant, it is a glorious presence in the sunny garden. Flowering about 2 weeks later than the S. vulgaris hybrids, 'Bellicent' sets elongated trumpet-shaped blooms softly colored in a deep pink tinged with rose.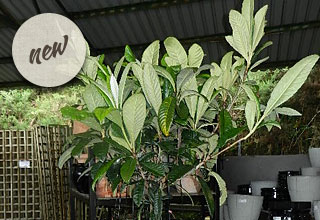 Eriobotrya
Fantastic medium sized evergreen tree with large textured deep-green foliage, fragrant white flowers and pear-shaped edible fruit. Very hardy and suitable for all but the coldest areas. Occassional pruning will retain compact shape.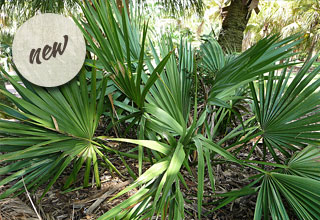 Sabal Minor
Sabal Minoris a dwarf form of the Trachycarpuserpus family, growing to a height of only 1m, suitable for a small garden or container. Evergreen and frost hardy to -20 C. Hassle free plant.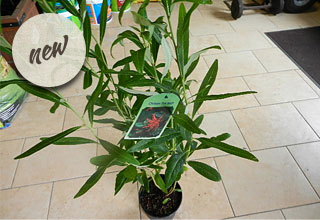 Embothrium
The tree is covered in masses of vivid red blossom in early to late summer. During flowering it becomes the standout plant in any garden; but the foliage is also of interest. It grows to a height of about 15ft. This fast growing tree needs a sheltered spot in the garden to really flourish. It prefers an acidic soil will also benefit from a deep lime free fertile yet well drained soil.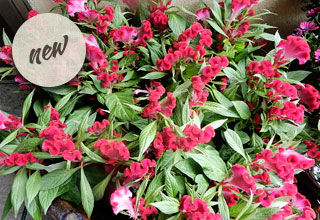 Celosia
There are few flowers as showy as celosia. Whether you plant the plumed type, which produces striking upright spires, or the crested type, which has a fascinating twisted form, you'll love using celosia in bouquets. The flowers are beautiful fresh, but you can also dry them easily. And they bloom in all the colors of a glowing sunset. Celosia likes rich, well-drained soil with moderate water. Spider mites can sometimes be a problem in hot, dry weather.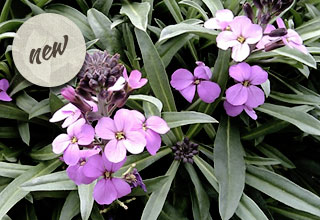 Erysimum ( Bowles Mauve Wallflower )
This long-flowering, bushy, vigorous wallflower produces long spires of deep mauve flowers from late winter to summer above narrow, grey-green leaves. It is a short-lived plant, but makes a vivid display for months in a sunny border. Try it as part of a colour-themed scheme, or contrast it with vivid yellows. It also looks good in a rock garden or raised bed. Given a good sunny aspect with well-drained soil it will reward you with months of continual flowering.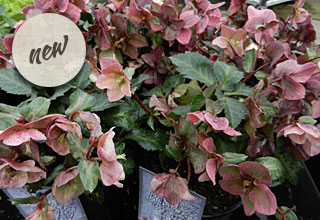 Helleborus ( Ruby Glow )
Ruby Glow is a clump-forming, evergreen to semi-evergreen perennial bearing leathery, divided, toothed, dark green leaves with prominent silver-grey veins and outward-facing, saucer-shaped pale pink to deep rose-pink flowers from late winter to mid-spring.
Prefers heavy, neutral to alkaline soil in partial shade. Avoid excessively dry or wet conditions. Shelter from strong, cold winds and mulch annually in autumn.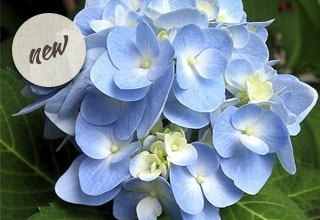 Hydrangea macrophylla - Endless Summer ( Blue )
The 'Endless Summer' Hydrangeas are a welcome new addition to this much loved group of plants. They are unlike any other type of Hydrangea in that they will flower on both old and new wood, so they will be laden with flower from June to October, despite late frosts and badly timed pruning. This is the blue flowered form (they also come in pink and white), which is ideal for cool summer planting schemes, but to keep the flower colour
it should be planted in acidic soil or ericaceous compost.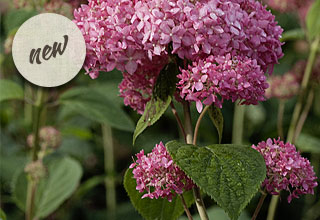 Hydrangea Annabelle ( Pink )
'Annabelle' hydrangea is the most recognized and best selling hydrangea in the world.
It is iron clad and blooms reliably. It is adaptable to many soil types and can be grown in full sun to fairly heavy shade. Pruning and care is a no-brainer. The only drawback - until now it only came in white. Everyone has been waiting for pink and now we have it!
This plant is the most reliable pink hydrangea available today, blooming stunning pink flowers year after year, even after the harshest of winters.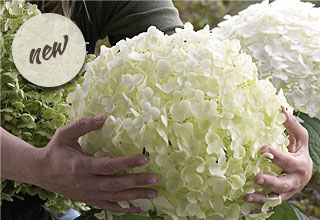 Hydrangea Annabelle ( Strong )
Strong Annabelle is beautiful new variety. It is very similar to Annabelle, however, it has a few improved features which make this plant a sought-after item. Strong Annabelle has typical mop-head flowers of pure white colour from mid to late summer. They are larger than those of Annabelle and are produced on thicker stems that hold the inflorescence better even in and after rain. Deciduous leaves are mid to dark green, changing to yellow in autumn.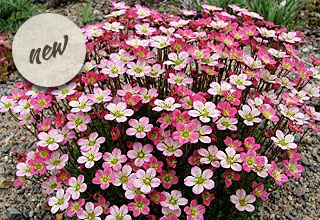 Saxifraga arendsii
This selection is a good choice for the partially shaded rock garden, wall garden or scree. Plants form a low cushion or mound of bright green leaves, bearing short stems of upfacing, cup-shaped bright or soft-pink flowers in spring. Requires a cool, moist location. Trim lightly after blooming to remove the flower stems. Adapts well to growing in clay pots or alpine troughs. A light top-dressing of sand right after flowering will help to keep the clumps tight and free from root-rot.