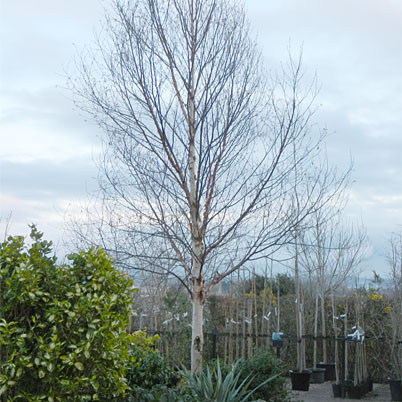 Botanical Name:
Betula albosinensis "Fascination"
Plant Type:
Tree
Origin:
N/A
Approximate Height:
25m (80ft)
Approximate Spread:
10m (30ft)
Foliage:
Green, golden colour in Autumn
Flowering Period:
April
Flower Colour:
Light yellow catkins
Positioning:
Full Sun or Light Shade
Soil Conditions:
Moist but well - drained
Hardiness:
Fully Hardy
Availability:
In Stock
Description
An elegant Silver Birch, much more decorative than its overused sister Betula Utilis Jacquemontii. This is a medium growing tree suitable for nearly all sites. The tree has a mahogany coloured bark gradually evolving to a peeling cream/white – Pinktoned bark with time. It has beautiful catkins in spring followed by green leaves which attain a golden colour in autumn and holds its leaves until late autumn.